6 lessons about the internet that we learned from Covid 
We will probably never forget the days of waiting for daily updates on the latest health advice from state governments, wearing masks everywhere, and lockdowns for weeks on end. With all the doom and gloom associated with the pandemic, it can be easy to overlook all the other important lessons. In this blog post, we're looking at 6 lessons about the internet that we learned from Covid.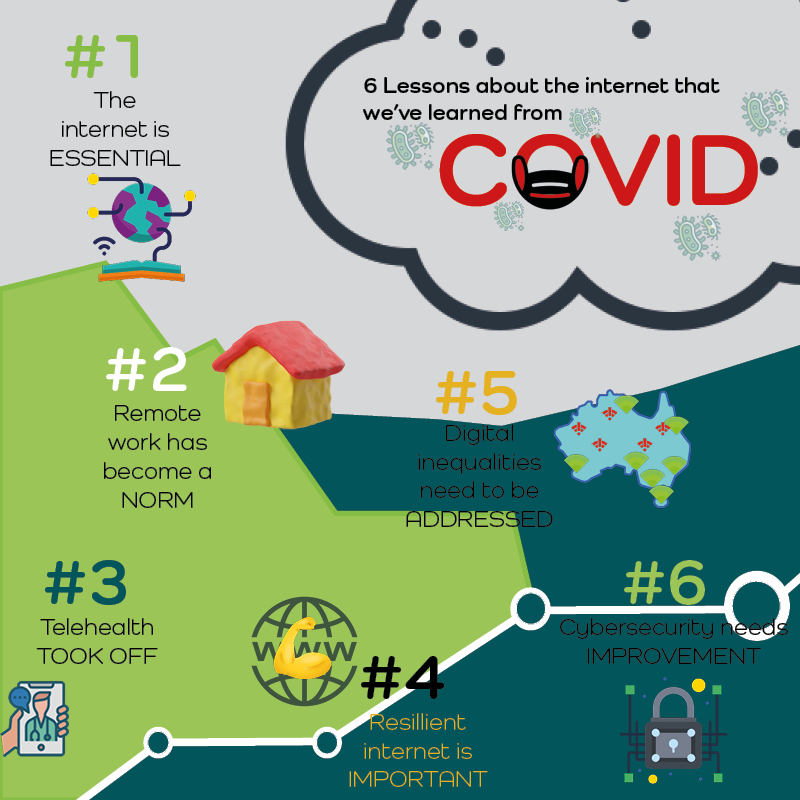 Lesson 1: The internet is essential
Our internet is just as essential to our daily lives now as electricity and water – heck, we can control electricity and water from our phones these days thanks to Wi-Fi! More services moved online during the pandemic, which has seen many changes to the way in which we access services such as online shopping, education and healthcare. These moves have solidified the Internet's essential shift and highlighted the need for affordable and widespread broadband access.
Lesson 2: Remote working has become a norm.
Many people were thrown into remote work where possible, and organisations have since realised the benefits of having staff work from home. The reduction in office space costs, access to a broader talent pool and increased employee flexibility has seen many workplaces now offer hybrid employment opportunities. However, this also means that our internet at home MUST be reliable and fast enough to facilitate productivity – and help us avoid that funny face people seem to make when they glitch (LOL).
Lesson 3: The telehealth revolution
Working from home wasn't the only thing that took off during this time – telehealth services went from a niche service to a primary mode of healthcare. This type of appointment also offered safety for medical staff and convenience for patients. Although some challenges still arise from a check-up over the phone, dependable internet connections are a core concern for video calls.
Lesson 4: The importance of resilience in our connectivity
Knowing all the wonderful things we can achieve with excellent connectivity, we need to make sure our internet is reliable, too! With more people working and living online, the bandwidth needs to be capable of keeping us all connected at the same time!
Lesson 5: Digital inequalities are more pressing
It's great that we can do all these fantastic things online now, but what does that mean for people with limited access to the internet in rural and remote areas in our country? Some shops go weeks without EFTPOS facilities because of poor connectivity! Also, the widening available talent pool is only available to those in other capital cities with access to better internet.
Unfortunately, this all means that we need to boost our efforts in connecting the not-so-well-connected areas in our country!
Lesson 6: Cybersecurity
The increased reliance on digital tech has exposed vulnerabilities in our cybersecurity efforts. From phishing attacks to data breaches to ransomware, all cyber threats have increased, with more data flowing across our networks than ever before!
The pandemic taught us many things, but when it comes to the internet, it has taught us 6 key lessons, the first being the most prominent – the internet is ESSENTIAL.
In this day and age, don't settle for poor quality internet; look out for an internet service provider that provides reliable internet and who looks after their customers. Here at Leaptel, we are dedicated to providing our customers with fast, reliable home internet around the clock and also provide genuine 100% Aussie service! If you haven't already, make the leap over to Leap for better value Aussie internet!
---
---