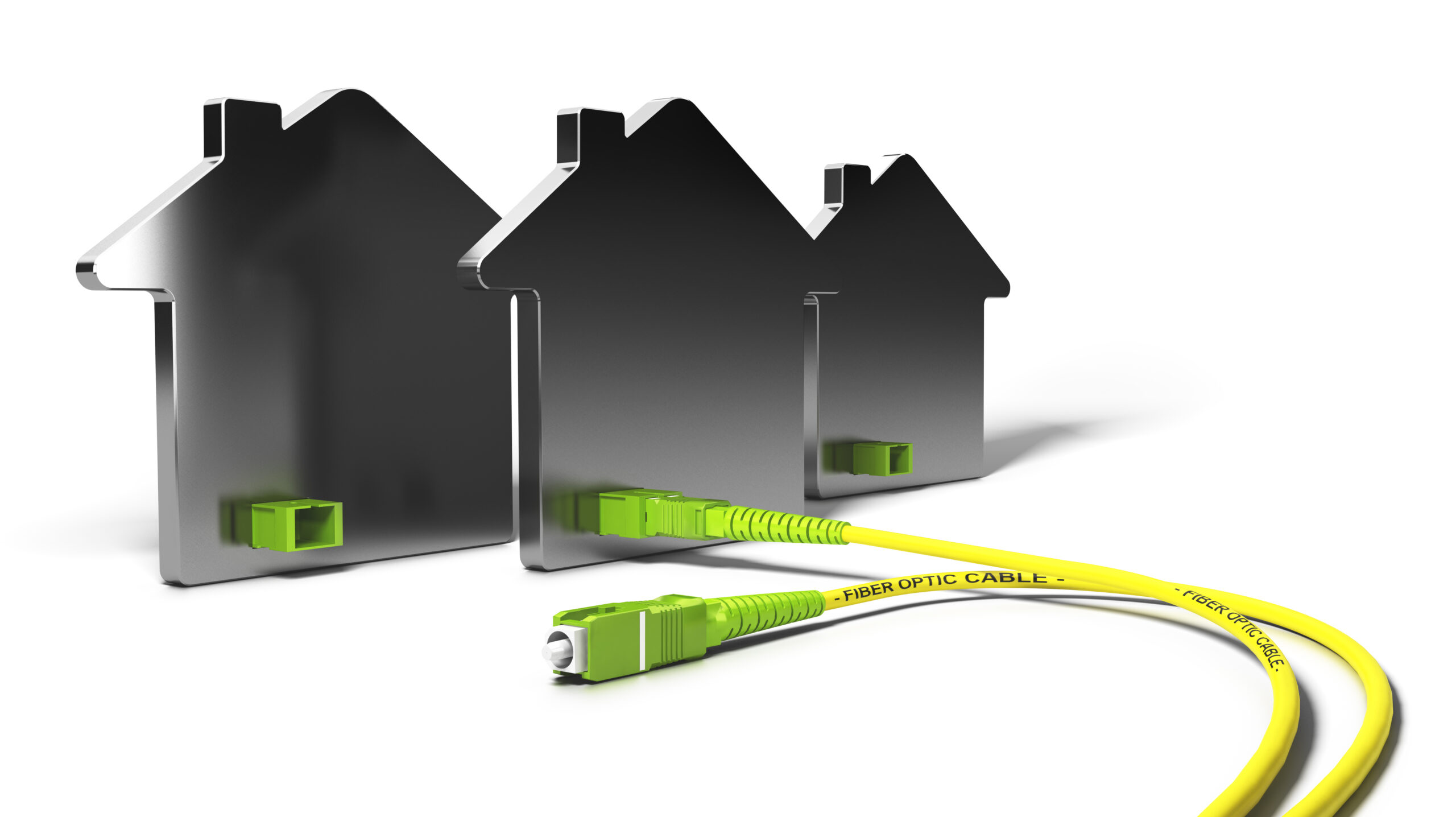 Is the upgrade to fibre really worth it?
Internet access technology has improved so much over the years. From relying purely on a telephony system (dial-up) to having a separate copper line (FTTN and FTTC Broadband), so we don't have to choose between being online or on the phone, which will now be replaced by fibre right to your home (FTTP still Broadband). Connectivity is improving, and our internet experience is also improving along with it!

When you see ads about the nbn® Fibre upgrade, you might already know that this is a great thing – particularly for you if your home is eligible! Yes, it is a progressive rollout that is happening across Australia, and it would be a disaster if the nbn® tried to do everyone's house at once, so we have to be patient and wait our turn to be upgraded. However, others may not know what the upgrade is about, why it's a good thing and question if they should bother doing it.

In previous posts, we've talked about what Fibre Connect is, why it will save the nbn® and why people should upgrade their homes to Fibre to the Premises, so you can read about all that another time, but in this post, we're answering a common question, "is upgrading to nbn® Fibre really worth it or is it a marketing thing?"
Short answer – YES! It's really worth it.
You may think that we're going to say that because we're offering the upgrade, but we're going to give you 6 good reasons why we've answered YES and why you should upgrade your connection!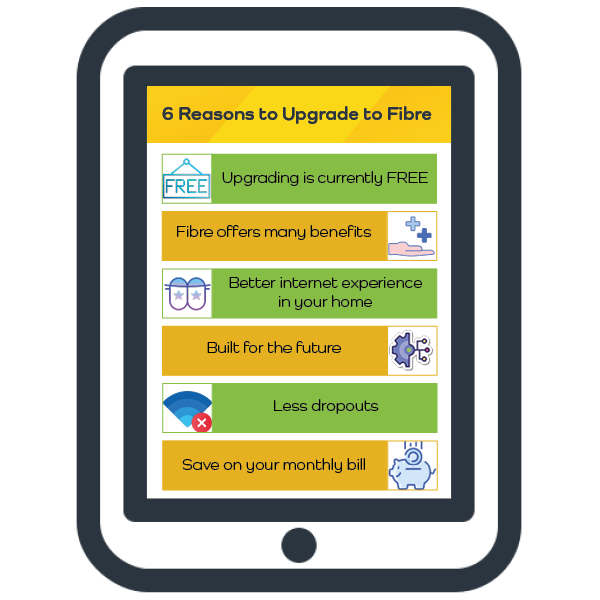 1 – Running fibre to your home is currently FREE.
It really is free to upgrade to nbn® Fibre. There are no installation fees, which means you don't have to pay for the technician that comes to your house and installs your connection box. Plus, we'll organise the appointment for you!
nbn® is also currently offering better discounts on high-speed plans and improving its process of installing fibre.
2 – Fibre connections offer many benefits.
Benefits of Fibre:
Enhanced internet speeds
Greater reliability
End-to-end diagnostic capability that can remotely identify if there is a defect in the network
It's upgradeable – if you want faster speeds, nbn® can enable more incredible speeds without needing to run a new cable.
3 – Benefits you will experience within your home
Fibre cables are flexible transparent fibre made of glass (silica) or plastic and form the backbone of how data is transmitted across the internet. It transmits data at the speed of light (through light pulses) and is not subject to transmission loss or electrical interference. That means great speed and reliability, giving you a much smoother internet experience within your home, particularly when streaming, gaming or being on a conference call.
Fibre also offers greater bandwidths which means it can carry more data much more efficiently compared to FTTN or FTTC connections. That's great for homes with multiple devices connected to the internet, particularly when it's being used at the same time.
Under the current upgrade offer, homes that are upgrading are required to switch to a higher-speed plan, but with the prices on offer for Leaptel nbn® plans, you may even save money on your bill while getting access to faster internet – WINNING!
4 – Built for the future of the internet
We mentioned this one earlier; fibre optic cable is capable of being upgraded so you can achieve greater speeds as you need it. With bandwidth demands increasing by 30% year after year, our internet needs to be capable of handling and transmitting more data without delay.
Below is an indication of the amount of data it takes to perform some common, everyday activities.
For gamers:
Diablo IV (approximately 20MB per hour)
World of Warcraft (approximately at least 40MB per hour)
Fortnite (approximately between 45-100MB per hour)
For streamers:
Standard definition TV shows or movies (approximately 1GB per hour)
High-definition TV shows or movies (approximately 3GB per hour)
Standard definition 480p YouTube video (approximately 260MB per hour)
Full HD (approximately 1.65GB per hour)
4K video (approximately 2,7GB per hour)
For WFH:
Video conferencing (approximately 1.5 to 2Mpbs down and 2Mbps up for a two-person meeting)
General activities and this can be job dependent as some jobs run much larger applications online i.e. engineers, architects, or developers (approximately 500MB – 2.5GB per hour)
With the information above considered, higher-speed plans can often be a better choice, particularly if you have multiple users. Current FTTN/C connections have speed limitations (outlined below).
Current speed limits:
FTTN/C – maximum available plan speed is 100Mbps.
FTTP – maximum available plan speed is 1000Mbps or 1Gbps.
As games, movies, TV shows and online applications get bigger and better, the demands on our internet will continue to grow.
5 – Less dropouts
Currently, FTTN/C technology has defined 4 dropouts or less per day as an acceptable standard. Unfortunately, with this type of access technology, nbn® cannot guarantee a dropout-free experience. FTTP, on the other hand, offers greater reliability as fibre has end-to-end diagnostic capability over the fibre connection and can remotely identify if there is a defect in the network.
6 – Upgrading can actually save you money on your monthly bill
Offers of the current upgrade are not only the fact that it's free; you can now access high-speed plans at excellent prices. Plans start at $64.95 per month for 100Mbps for the first 12 months. So check your current plan on an FTTN/C connection to see what you're paying; the upgrade could actually save you money and give you access to better speeds.  

Disclaimer: Prices and plans featured above are as of July 2023 and are subject to change.
Yes! Upgrading to nbn® Fibre really is worth it. There are many benefits to connecting to the internet via fibre, such as FREE installation, greater speed and reliability, using future-proof technology, and it can actually save you money!
If you'd like to upgrade your existing nbn® FTTN or FTTC connection to FTTP, be sure to check your address to see if your home is eligible for the upgrade first, and always read the T&Cs when signing up for any new deal. If you're still not sure the upgrade is for you, feel free to get in touch with one of our local Aussies experts via web chat, email or phone 1300 205 327 – we'd love to hear from you!
---
---
---